Hello ,

Today, I am sharing a video I made for y'all on our recent trip to Montana, reconnecting with nature, myself, my partner and family all along the way.  

I am already feeling the shift and change that this time of year offers me.  I love riding the wave of back to school momentum and inspiration.  
Stay curious! Ease on in..... 🌈
Lynn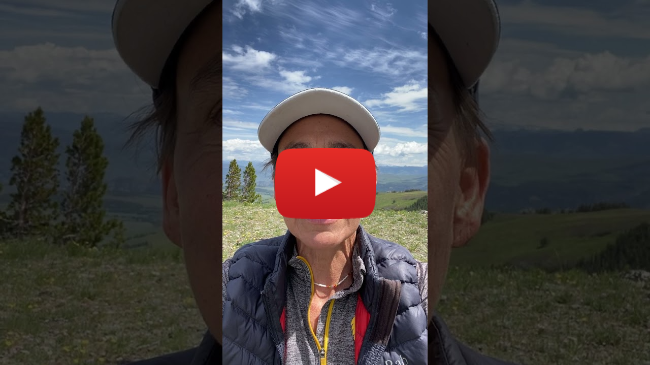 Musings from the Wild
UPDATES
DON'T MISS THIS WEEK'S GROUP VISIT!
ISH Community Connection Group Visit is ZOOM this week! Tuesday @ noon.  Elizabeth Joselyn (yes, we are related, my big sister!)
She will offer accessible nervous system resets that will support calm, joy, creativity and play through out your day.  
I look forward to seeing y'all soon!  A reminder the zoom link has been sent to your email to upload to your calendar,  a reminder will be sent Tuesday am to grab the link.  If you are having trouble getting on zoom text the office number 970-403-5254. 

Last week's presentation at group visit we continued our journey through the Gastrointestinal system North to South.  We focused on digestion (stomach, pancreas and gallbladder health) and intestinal health learning about leaky gut and the interface with our immune system.   
LEARNING
The importance of gut health! 
 
When thinking of deeper healing it is critical to approach the gut north to south.  Attending to the function all along the way. 

How is your GI system working from a whole system approach? 

If there is dysfunction in your upper GI tract everything down stream is effected.  Over the past few weeks at group visit we have been taking a tour north to south.  We will culminate this series 8/14 after which I will share the replays if you have missed these.  Check out the slides and info graphics below to learn a bit about your gut function!
COMMUNITY
GROUP VISIT DATES


August 8 - ZOOM Elizabeth Joselyn Guest
August 15 - IN PERSON
August 22 - IN PERSON
August 29 ZOOM Laina Eskin time change 12:15 -130


Have you scheduled your
60 min PRIVATE session with Laina yet?

ALL levels of Membership are invited to a 1:1 session with Laina Eskin, IMS Trainer.   

WHAT IS YOUR INNER MATRIX?

Each of us has our own Inner Matrix, which consists of our emotions, thought strategies, and nervous system, that drives our actions, behavior, and ultimately creates our experience of life. 

Working to support your neurobiology to rewire your thought patterns and those pathways that are well trodden but may not be serving you to elevate your life and health is a necessary part of a person's health and healing.

ISH Member Benefits include 1 - 60 minute private session
with Laina Eskin.

Curious? Come to ISH Community Connection Group Visit Workshp (8/8/23) to get a taste of what Inner Matrix Systems has to offer.

If you are interested in redeeming your
private visit with Laina, 


Click Here to Schedule Your Session  or email Laina directly at lainaeskin@gmail.com, let her know you are an ISH Member. 
EMPOWER     💚     LEARN      💚     CONNECT
SHARE
What is working?  What feels clunky?  What would you like to see in Membership?  Your feedback is important to me!  ISH Membership has evolved since inception and will continue to do so based on YOU!  Please take a few minutes to share your experience and FEEDBACK below. 
FEEDBACK